Attilio Reinhardt: Event Emcee in Milan
Hello, I am Attilio Reinhardt, a professional event emcee based in Milan. With years of experience in the industry, I have had the privilege of hosting a wide range of events including corporate events, conventions, congresses, award ceremonies, team building activities, gala dinners, and charity events.
As an event emcee, my goal is to ensure that every event I host is a success. I take the time to understand the objectives and theme of each event, allowing me to tailor my approach and deliver a seamless experience. From the moment I step on stage, I strive to captivate the audience, keep them engaged, and maintain a positive energy throughout the event.
Milan, the fashion capital of Italy, is a city known for its vibrant energy and rich culture. It is also a popular destination for many corporate events and international conferences. I am proud to call Milan my home and have had the privilege of hosting numerous events in this beautiful city.
However, my services are not limited to Milan alone. I am available to host events throughout Italy, including Rome and other major cities. I believe that every event deserves an emcee who can connect with the audience and deliver a seamless and enjoyable experience.
Services
Corporate Events
Corporate events play a vital role in establishing and strengthening business relationships. With my expertise in event hosting, I can help create a professional and engaging atmosphere that reflects your company's values and objectives. From product launches to networking events, I will ensure that your event leaves a lasting impression on your guests.
More »
Team Building Activities
Team building activities are essential for fostering a positive and collaborative work environment. With my interactive hosting style, I can facilitate team building activities that encourage teamwork, communication, and creativity. Whether it's a fun-filled day of outdoor adventures or indoor workshops, I will ensure that your team building event is a success.
More »
Award Ceremonies
In addition to corporate events, I also specialize in hosting award ceremonies. Recognizing and celebrating achievements is an important part of any organization. As an event emcee, I will bring professionalism and enthusiasm to your award ceremony, making it a memorable and inspiring event for all attendees.
Gala Dinners
Gala dinners and charity events require a special touch to create an elegant and impactful experience. I understand the importance of creating a warm and welcoming atmosphere that encourages guests to contribute and support a noble cause. With my expertise in event hosting, I will ensure that your gala dinner or charity event is a memorable and successful one.
Fashion Shows and Pageants
When it comes to fashion shows and pageants, I bring my flair for style and grace to the stage. I do my best to to create an atmosphere that showcases the garments and models in the best possible light. With the right timing and smooth transitions, I ensure that each segment of the show flows seamlessly, captivating the audience and highlighting the unique talents of the participants.
My background
Before focusing on event hosting, I worked as an author of articles for newspapers and magazines, as well as a copywriter for advertising agencies. This experience has honed my storytelling and communication skills, which I now utilize to engage and captivate audiences during events.
My style
Elegance, affability and a pinch of irony are my trademarks. I emcee in Italian and English for an international audience at events of all kinds.
My style suits both formal and informal occasions.
When you choose me as your event emcee, you can expect professionalism, attention to detail, and a commitment to excellence. I take pride in my work and strive to exceed the expectations of my clients. Whether you are planning a corporate event, convention, congress, award ceremony, team building activity, gala dinner, or charity event, I am here to make it a remarkable and unforgettable experience.
Greatest Events
I had the honour of hosting exclusive events in prestigious locations such as the Casino of  Venice and Gio Ponti's Pirelli Tower in Milan.
Furthermore, I performed on prestigious stages such as the Elfo Puccini Theater and Zelig club in Milano, and Smaila's Club in Margherita di Savoia (Apulia).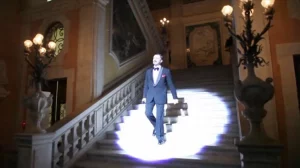 Skills
English level: C1 (CEFR; IELTS band 7 certificate)
Interacting with the audience
Interviewing
Team work and people management
Organization skills, stage management, artistic direction, effective communication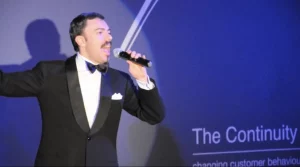 Additionally to being an event emcee, I am also a radio host, corporate entertainment consultant, and a creative and artistic director. My diverse background allows me to bring a unique perspective and approach to every event I am involved in. Whether it's crafting a compelling script, coordinating entertainment acts, or managing the flow of the event, I have the expertise to make your event a success.
Radio Host
As a former radio host I created, and hosted with Sara Cassinotti, Radio Variété: the first Italian radio show to interview cabaret artists. The programme was broadcasted by Radio BlaBla (Milan, 2015-2016).
Furthermore I created, wrote and hosted the podcasts Burlesque Stories (2020) and Fuori Scena. Cronache dei lavoratori dello spettacolo (2021).
Corporate Entertainment Consultant
I am an artistic consultant for corporate events and gala dinners.
I have put my 15 years of experience in the entertainment industry to work by creating shows with customizable characteristics tailored to suit specific client needs.
I additionally oversee entertainment for corporate events and Seasonal Dinners.
Original and tailor-made shows with a great cast, for example: circus performers, singers, musicians, magicians, dancers, acrobats (some of whom feature on Italia's Got Talent, Cirque du Soleil and the Guinness Book of Records).
Creative and Artistic Director
I created, directed and emceed the dinner shows Variété Night (2016-2018) and Saturday Night Hell (2017-2018), plus overseeing the artistic direction of the corporate Seasonal Dinner shows of Maison Milano club (Milan) in 2017.
Finally, I also had the pleasure to be the creative and artistic director of two events at the five-star Hotel Vittoria in Brescia: Vittoria 1930 (2015) and Hellzapoppin' Feast (2016).

Summary